March
2021
Take time. Create. Play. Practise. Make Art. Travel. Connect. Circulate. Exchange. Be alone. Be together. Be with.
On Residence.

In 2021, Dancehouse and Residency Projects are piloting a new residency program: On Residence, offering Australian independent dance artists time, space and cash to create and connect with communities in outer-metropolitan and regional Victoria and NSW.
This paid opportunity is flexible and adaptable. It moves with you, your project or work, and the host partners' specific context. On Residence supports any stage of a dance project or work's development from initial research through to creative development. This first round of On Residence will support at least six residencies between July 2021 and June 2022 with partners including Bundanon and Punctum.
On Residence is a direct pathway to future presentation or realisation of projects with Dancehouse from 2022 — this might be on site at Dancehouse or offsite through affiliated partnerships or contexts.
With On Residence Dancehouse will support artists to develop works and projects at any stage, establish relationships and connections with Dancehouse, communities, practices, and partners. The program draws on Dancehouse's experience cultivating similar meaningful alliances internationally.
Locally and globally, our collective experience of COVID and climate emergency demand we connect and form stronger local networks and deeper relationships.
EOIs are now closed.
March
2021
A Conversation on Country held at Garambi Baan/Laughing Waters as part of the new Garambi Baan/Laughing Waters Residency Centre program and supporting production of the new documentary film, BUKAL BUKAL.
This is the inaugural development Residency Projects is proud to be supporting at the centre — members of the team will be visiting across 2021-2022 for research and development residencies.
On the day, Senior Elder of the Gimuy Walubara clan of the Yidinji people, Henrietta Fourmile Marrie AM and the inimitable Rhoda Roberts AO, a Widjubul woman from the Bundjalung territories, explored Henrietta's work around institutionalised racism in Australia, and abroad, her major contributions to the transformation of institutional legal frameworks and governance to address institutionalised racism, and Henrietta's deeply personal story of her continued fight for the repatriation of her Great Grandfather, Ye-I-Nie's, shell regalia from the basement of the British Museum.
Welcome to Country and talk by Aunty Joy Murphy Wandin AO, Senior Wurundjeri Elder of the Kulin Nation. Aunty Joy has been an enormous support to me over the past few years developing the centre, and it was a privilege and a delight to have her spend the day with us, taking part in the discussion.
October
2020
Parks Victoria Board Approval
September
2020
Nillumbik Shire Council Approval
Media Release19 September 2020
Laughing Waters artist in residence program approval

Council this week unanimousley approved entering into a new lease agreement with Parks Victoria in order to support independent arts organisation, Residency Projects through a sub lease of the two properties involved in the program - "River Bend House" and "Birrarung House" both located on Laughing Waters Road in Eltham.

The properties at Laughing Waters - or Garambi Baan - are culturally and historically significant, with River Bend designed by Alistair Knox and Birrarung by Gordon Ford, two highly influential and important architects.

The Victorian Government's recent approval of Planning Scheme Amendment (C125) again allows the use of the buildings for an artist residency program.

Residency Projects is being provided with $30,000 p/a in funding for the next five years.

Nillumbik Mayor Karen Egan, who is Chair of Council's Arts and Cultural Advisory Committee, said Laughing Waters was an exciting and significant project for the Shire.

"This is the icing on the cake for the Arts and Cultural Advisory Committee in terms of all it has achieved for the arts in the Shire, starting with the increase in funding for the Nillumbik Prize," Cr Egan said.

Sugarloaf Ward Councillor Jane Ashton said an artist in residency program has been and will now continue to be a significant commitment to the artistic legacy of Nillumbik.

"It's critical that we give emerging artists an inspirational space, surrounded by nature and close to the Yarra to explore their creativity," Cr Ashton said.

"Laughing Waters is a very, very significant area and we owe it to the previous custodians of the land that we as a council value it."

Cr Peter Clarke said the arrangement was four years in the making, requiring persistence and collaboration by all stakeholders.

"This artist in residency program has generated some very important art projects in its time," Cr Clarke said.

"I'm hopeful the next generation of this program will link with the Wurundjeri, which is an important step forward.

"This is the culmination of much effort but it has been well worth it. The local community values the arts highly and understands its importance in the cultural, social and economic sense so it is a great pleasure for us as a Council to bring this initiative back to life."
June
2020
Amendment
C125-nill approval
We are delighted to have received planning approval for the two buildings at Garambi Baan/Laughing Waters. This is a welcome outcome and we extend our thanks to the the Minister for Planning the Hon. Richard Wynne MP as well as the Department of Environment Land Water and Planning (DELWP).

2020
Residency Projects is pleased to have been approved for Deductible Gift Recipient (DGR) status as a result of the Minister for Communications, Cyber Safety and the Arts and the Assistant Minister for Finance, Charities and Electoral Matters having approved Residency Projects Inc's application to be entered on the Register of Cultural Organisations (ROCO). The organisation's public fund, Residency Projects Public Fund, became eligible to receive tax deductible donations on 9 April 2020.

---
2020
Residency Projects was on site at Laughing Waters with renowned architectural photographer and artists, John Gollings AM. John spent the afternoon documenting both of the Alistair Knox buildings at Garambi Baan/Laughing Waters Residency Centre, River Bend House (formerly the Cuming House) and Boomerang House, as well as Graham Rose and Gordon Ford's Birrarung House and garden.
---
2019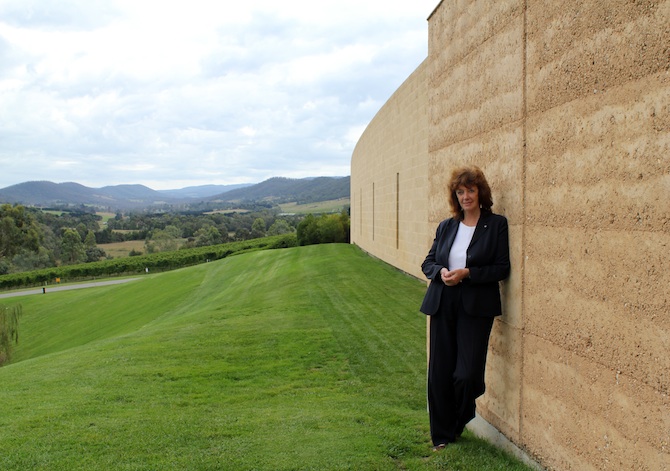 Photograph © Kerry Cross
Maudie Palmer AO joins Residency Projects to oversee the Residency Projects Public Fund and provide strategic advice to Residency Projects around philanthropy and governance. Maudie was Founding Director of Heide Museum of Modern Art (MoMA), TarraWarra Museum of Art and Herring Island Environmental Sculpture Park.
---
April 2019
Residency Projects is pleased to have been accepted by the Australian Charities and Not-for-profits Commission (ACNC) onto the charity register. This enables Residency Projects to receive Tax Charity Concessions (TCC) from the Australian Taxation Office (ATO).
---
2018
Minister for Creative Industries, Hon. Martin Foley MP, awards Residency Projects infrastructure funding for the restroation of the historic Laughing Waters buildings.
---
Dec 2018
Wurundjeri Woi wurrung Cultural Heritage Aboriginal Corporation enters partnership with Residency Projects to achieve and maintian dual use of the Garambi Baan/Laughing Waters Residency Centre.
---
2018
Residency Projects partners with Nillumbik Shire Council to deliver and run a rejuvenated Laughing Waters artist in residence program, transforming into the new Garambi Baan/Laughing Waters Residency Centre in partnership with Wurundjeri Woi wurrung.
---
2018
An essay published in Art+Australia by Abbra Kotlarczyk on the Boorhaman Residency Program.
---
2018
An interview with Boorhaman Residency Program artist Chaco Kato, published in Garland Magazine.
---
2017
An article in the Wangaratta Chronicle profiling the Boorhaman Residency Program's exhibition at Wangaratta Art Gallery.
---
2017
An article in the Wangaratta Chronicle on the Boorhaman Residency Program's artists and workshops.
---
2016
Residency Projects is pleased to have secured a licence contract for the dis-used Boorhaman Primary School from the State Government of Victoria's Department of Education and Training. We thank the department for their support.
---
ACKNOWLEDGEMENT OF COUNTRY

We acknowledge and pay respect to First Peoples across Australia and the Torres Strait, as the original custodians of land and waters. We acknowledge their unique ability to care for Country and deep spiritual connection to it. We honour Elders past, present and becomming. We acknowledge that sovereignty has never been ceded.
©2020 Residency Projects Inc.