Garambi Baan⋰ Laughing Waters
Situated in secluded bushland in Eltham, approximatel 25km from Melbourne's CBD in the North Eastern suburbs, Laughing Waters sits within the Shire of Nillumbik (Shallow Earth). The Shire is bordered by Murrindindi Shire in the north, Yarra Ranges Shire in the east, Manningham and Banyule Cities in the south, and the City of Whittlesea in the west.


Laughing Waters is the name for a stretch of the Yarra Valley Parklands consisting of river flats and hilly riparian bushland. With the Birrarung (Yarra River) flowing through, Laughing Waters has been an important gathering place for tens of thousands of years. For the Wurundjeri, 'Garambi Baan' (the name for Laughing Waters in the Woi wurrung language) is an important site for growing and harvesting food. Significantly, Wurundjeri iuk (eel) traps remain at Garambi Baan to this day.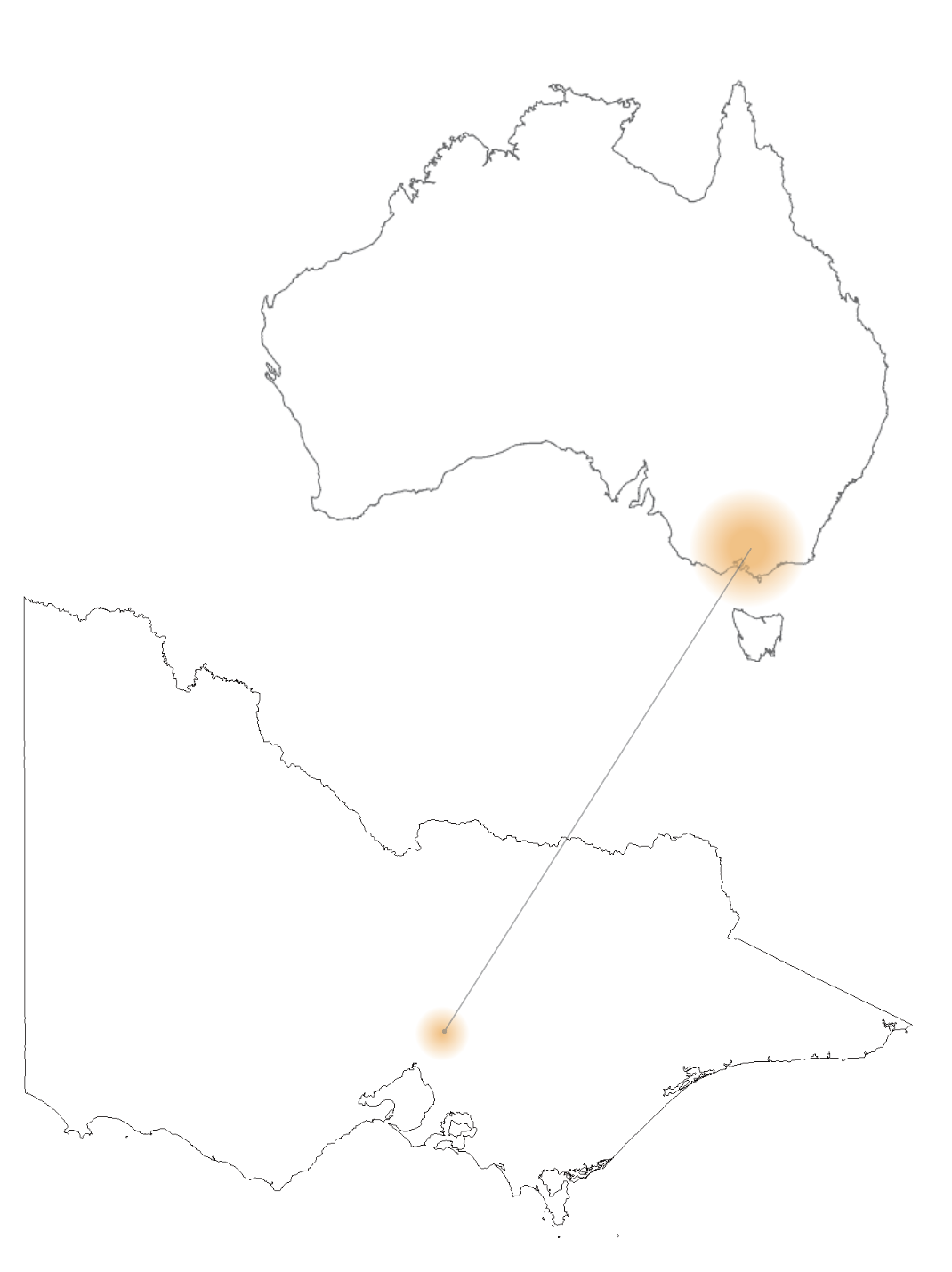 "The site was given a language name in 2015 at the instigation of Wurundjeri Elder, Dave Wandin. Garambi Baan means "laughing waters" in our traditional language, Woi wurrung.
The site at Warrandyte was rediscovered by Campbell Beardsell (OAM) in 2007 and is one of only a few known remaining iuk (eel) traps on Country once found the length of the Birrarung (Yarra) and the Maribyrnong. Our aquacultural infrastructure was dismantled, taken away from sites and used to build houses, fords and roads by Europeans. The difficult and restricted access to the site is thought to be one of the reasons for its survival. The iuk trap is located within lands managed by Parks Victoria.
The Narrap team in partnership with Parks Victoria and Acacia Land Management have been improving the native vegetation with a program of woody weed removal, exclusion fencing and revegetation. Importantly the team have restored the trap's infrastructure and have demonstrated its effectiveness."
– Wurundjeri Woi wurrung Cultural Heritage Aborginal Corporation website
"Our Ancestors were highly skilled water engineers and practised sustainable aquaculture."
– Wurundjeri Eler, Uncle Dave Wandin





An artist-in-residence program was first established at Laughing Waters in the early 1990s as the 'Melbourne Parks and Waterways Artist in Residence Program', led by esteemed curator and Founding Director of Heide Museum of Modern Art (MoMA) and TarraWarra Museum of Art, Maudie Palmer AO – a current Residency Projects board member. Maudie recalls that, '[t]he thing I liked most about the Laughing Waters mud brick houses was the association with Alistair Knox and Gordon Ford, there was always a lot of talk at Heide about them' (1).
The Melbourne Metropolitan Board of Works had initiated acquisition of properties along Laughing Waters Road in the mid 1970s, for the preservation of precious riparian habitat for threatened and endangered species of birds, mammals, insects and plants (2). This was in accordance with Sir Rupert Hamer's vision, when Minister for Local Government, 1964- 71, for the creation of 'Green wedges' to be set either side of Melbourne's waterways, forming six new parks covering over 5000 hectares.
Parks Victoria, the new statutory authority responsible for Laughing Waters, acquired Birrarung and River Bend houses in 1999 and 2003, forming a partnership with Nillumbik Shire Council to operate a residency program for artists. Originally involving Birrarung House and the now condemned Boomerang House, the program expanded in 2008 to include River Bend House.
2015 saw the closure of the program by Nillumbik Council due to maintenance costs. Since the closure of the residencies the Nillumbik communities and the arts sector, both locally and nationally, have mourned the loss of this unique place. The houses hold significant historical, architectural, aesthetic and social value (3),
with River Bend (originally the 'Cuming House') built in 1968 by renowned architect Alistair Knox, Boomerang also designed by Knox and built in 1970-72, and Birrarung designed and built by Graham Rose and innovative landscape architect Gordon Ford in 1974. Birrarung and Boomerang houses were also home to Gordon Ford and then partner Sue Ford, acclaimed Australian phographer.
1 Maudie Palmer AO, quoted in Jane Woollard's "Laughing Waters Road: Art, land- scape & memory in Eltham", Nillumbik Shire Council, 2016, pp. 142
2 ibid., p.8. 3 'Statement of Significance: Adobe house, outbuilding, Boomerang house and bathing shed', Heritage Council Victoria, 2010, Victorian Heritage Database, Melbourne, VIC, Nillumbik Shire Council, http://vhd.heritage- council.vic.gov.au/places/63476, (accessed: 20/10/2018).



---
---
---
Residency Projects ackowledges the Wurundjeri as the Traditional Custordians of Garambi Baan (Laughing Waters), we thank the Wurundjeri Land & Compensation Cultural Heritage Council Aboriginal Corporation for their support and partnership. We also thank Parks Victoria and Nillumbik Shire Council for their partnership and ongoing support.


Principle Partners
---
---
Industry Partners
---
Supporters
---
ACKNOWLEDGEMENT OF COUNTRY

We acknowledge and pay respect to First Peoples across Australia and the Torres Strait, as the original custodians of land and waters. We acknowledge their unique ability to care for Country and deep spiritual connection to it. We honour Elders past, present and becomming. We acknowledge that sovereignty has never been ceded.
©2020 Residency Projects Inc.